>>Artist Request Form (click here)<<
Steve Loria - U S A
DJ / Producer / Remixer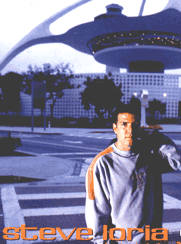 Steve Loria, West Coast's legendary House DJ, is a globally recognized artist traveling all over Europe, United States, South America and Japan. His fascinating and dedicated style ranging from deep house to hard house to progressive house to acid house has given him a respected name in the electronic music community. Steve has headlined parties such as Los Angeles 's largest New Year's party "Together as One," three years in a row, San Francisco's "Gucci" party and legendary "By the People" parties, "Freedom Festival", and furthermore, he was invited to lead the grand opening extravaganza at Las Vegas's now legendary super club "Utopia". Steve was also chosen to be a part of the DUB Tour that traveled across America with other exceptional House talent and friends like Doc Martin, DJ Pierre, Josh Wink, King Britt and Eddie Amador. His dedicated fans love his technical adventure with three turntables, which strives to bring the crowd into a new experience on the dance floor. Besides mixing three widely acknowledged mix compilations, Steve has produced and remixed tracks for world-renowned labels such as Plastic City, StickMan, Power Music, and Distant Music.. In 2000, Steve launched his own record label Dulce Recordings, with their first release being "Amor Latino," which instantly was embraced and licensed worldwide. When time allows, Steve is in the studio focusing on his label and new production work.
>>Artist's upcoming Tour Dates (click her)<<

>>Artist Request Form (click here)<<
For inquires, contact ICU Media, Inc. @:

Ph: USA - (323) 860 0650
Fx: USA - (323) 860 0654
Email: icu@icumedia.com

::I C U M u s i c C D C o m p i l a t i o n s::














©® International Club Union™1993-2014, International Club Union, ICU, ICU Media, ICU Records, icuwin, icushop, icufuture, icumovie, icuhelp, icushop, icupictures, icuradio, icubuy, icufashion, icuspy, icumodels, icuplayer, icupromo, Clubnights, ICU Generation Trance, ICU Global Hardhouse, ICU Session are registered and/or pending trade and/or service marks used by International Club Union. All rights reserved.
exxogroup , exxotelevisionexxotvexxomakeup exxomodelsexxoblogexxoradio exxofashion exxomedia exxomusic icumedia.com icurecords.com icuwin icushop icufutureicumovie icuhelp icushopicupicturesicuradioicubuypicufashion icuspy icumodels icuplayer icupromoraveusanextenergydrinknextgermany exxocosmetics